The Apple Keynote is (even if I do not want to admit it), an important tech event! New devices announcement, new advancements in iOS and new products! Here is all you need to know about yesterday's Keynote (I will try to not say too many bad stuff about Apple, I swear)
To sum up quite effectively three products were revealed and as you might have expected we have a new iPhone a new iPad and the product that actually was stunning that you wouldn't expect to be was the new AppleTV!
iPad Pro
The first product to be announced was the iPad Pro, it's basically quite similar to the Microsoft Surface, multi tasking, a pen and a keyboard. The pen is named the Apple Pencil, and allows  possibilities that are depending on the pressure applied, the angle and many other factors (A technology indeed introduced 20 years ago and now sold for 99$ :-D) . A bigger iPad and more powerful is what you get with this, so let's face it, Apple this time is following the competition and by that we mean copying the Microsoft Surface 3 and the Galaxy Tab Pro. The iPad Pro isn't that cheap, in fact for what you get it is quite expensive. So prepare your wallet, the iPad Pro starts at 799$ for the 32 gigs version and the 128 gigs version is available at 949$ but you need the pencil and the keyboard so add 99$ for the pencil and 169$ for the keyboard. You finally end up spending 1217$ for a tablet, honestly, I'd rather buy a MacBook or a Surface Pro that is way cheaper. The irony? The Microsoft Suite for iPad Pro was introduced by a Microsoft executive (Haha!)
Apple TV
The second item revealed was the AppleTV, and honestly , I was sceptic at first but I realized it might be nice. I adore the remote and how you can interact using Siri, pretty slick and intuitive. All that blabber about changing the way we watch TV might be true, though I do not see that as a revolution maybe just a simple and logical evolution. Apple does not redesign the way we actually use TV, but rather implement an OS and give a platform and APIs to developers so they can bring out the best in this new tvOS (Yes, that's what they call it).
Basically, you use different content providers to watch your content (Netflix, Hulu, iTunes) you control all of this using a neat remote control that makes the whole experience really entertaining. Moreover, you can use Siri to make the experience more enjoyable and ask about that HIMYM in which Bob Odenkirk made  a an appearance. And that kids is how I met the AppleTV!
On the other hand, you can listen to your music, play different games or shop! A lot of features might be coming in as well since different developers are working on it as we speak!
Last but not least, my nemesis…
The iPhone 6S
The new iPhone 6S, we've heard a lot of fuss about it, what is so new about it? Well let's see… (I really am holding myself not to hate on the iPhone again!)
What's new?
3D Touch: You can touch your screen in different ways now (Did this sound off?)
Basically it allows you to do new things when you use different kinds of pressures on your screen, I for one do not believe it is such a big improvement. Why? Because it can easily be replaced by a long press.
What does this technically allow you to do? Take an emergency selfie…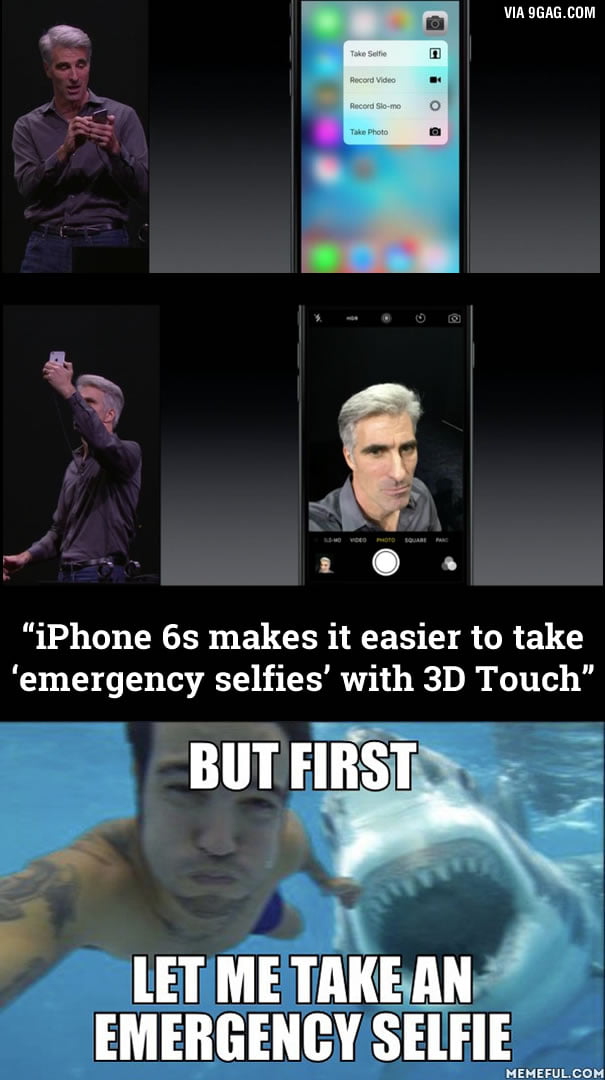 A new iSight  Camera and an improved front Camera:
Apple has since a long time ago not believed in the Megapixel number, but this time they've decided to up that number a notch it's gone up to 12MP with TrueTone flash. Honestly, I do admit that the iPhone pictures are really nice and with this improvement they might get better. The front camera also gets amped up to a FaceTime HD camera with a screen that lights up as a flash and also has the TrueTone flash feature implemented. #nofilter #iPhoneonly.
A stronger and faster Chip
The A9 Chip is 90% better than the A8 Chip and allows better graphic capabilities as well, the processor also has a motion processor chip. What is the use? Keeping the motion processor always on.
This one is my only favorite in the new iPhone, the Live Photos feature is indeed nice. Allows you to take up to two seconds to relive your pictures in motion, relive the moment you took that picture. It can also support sound, and is compatible with all Apple devices. I did have this feature on my Galaxy S5 two year ago but it wasn't automatic. Apple has done it again.
The iPhone 6S is available at the iPhone 6's price which is good news for iPhone addicts.
This is all you should know about yesterday's Apple Keynote, feel free to ask for more information in the comments section!